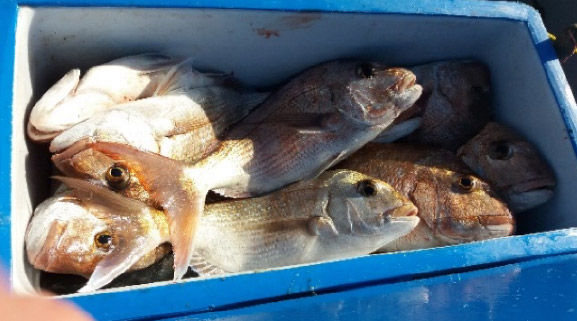 What's the plan??
Book a house as near to the boat ramp as possible, get up there and fish ourselves stupid for a long weekend.
We left Waipu at 6am Friday morning, had breakfast in Kaeo, grabbed some groceries in Taipa and got to Rangiputa mid morning.
Unload the boats, down the drive to the ramp and off we go, 10mins run and there's some birds telling us where to start fishing, so many fish on the sounder!!! In less than 2 hours our snapper limits in the bin!!!. All nice size fish, really fat. Plus a 3.66kg trevally for Dobby.
Larry arrived, called us for an update and shot out for a try. Stopped by him on the way back in to give him our glad news and see how he was getting on. Andrew turned up late in the evening fired up to go out first thing.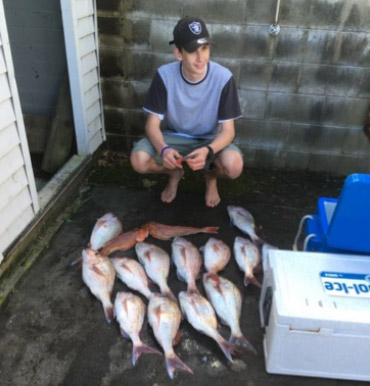 6.30am Saturday Kevin & 2 boys turn up outside in the dark, got out of bed and turned on the lights, told him our plan was to go out around 10am as that worked well the previous day. Andrew was 1st out of the blocks followed by Larry, we launched 2 boats & went out to repeat the day before's fishing but forgot to tell the fish.
They were not as active as Friday. Dobby gave lessons to the boys with mixed success. Snapper & gurnard in his boat. Filleting & bagging fish again, Peter arrived & went off for a late afternoon fish, returned in the evening with his limit of big fish.
Beers & dinner, followed by rugby & another early start planned.
Sunday Everybody up & off in the morning, weather is a bit different but some team play saw us all with limit bags to fillet. Andrew, Kevin & the boys leave for home.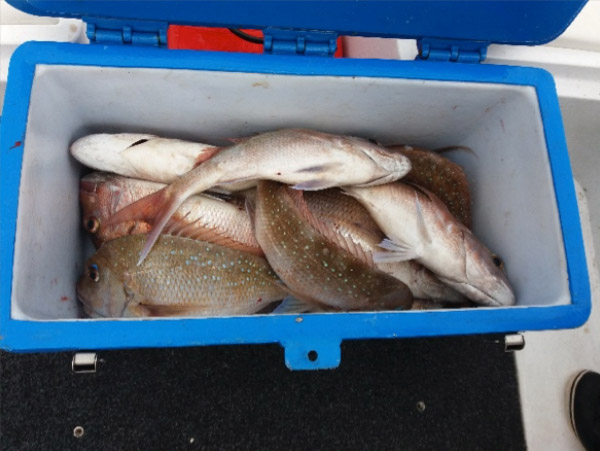 Monday morning out again, we headed south east for a change, not much happening there so back to Spot X and found plenty still there. Larry & Peter left for home. Later in the afternoon Dobby & I went up the harbour on a rising tide & scored a couple of bigger snapper that were destined for the smoker.
Tuesday morning saw a fresh breeze blowing straight onto the beach so with plenty of fish already we decided to pack up and go for home. Out the end of the drive and one last look at the water, there were birds nutting off just by the buoys!!!
We tossed up whether to get a boat in the water again but decided to leave it until our next trip.
We'll be back!!!